Scottie Scheffler survived Bay Hill and took home the API this weekend.
Bay Hill played like a US Open set-up. Slick, greasy greens, rough that you had to hack out of, and bunkers everywhere. That's the best we've ever seen that course look in person or on the 75′.
The course conditions made for great TV if horror films are your genre of choice. Consider this: Rory fired a 152 over the weekend and still finished T-13.
The champ made a great par on the last out of the left rough, and was only the 4th player all day to hit the green from the long stuff on 18. He's got some serious strength pulsing through that willowy swing of his.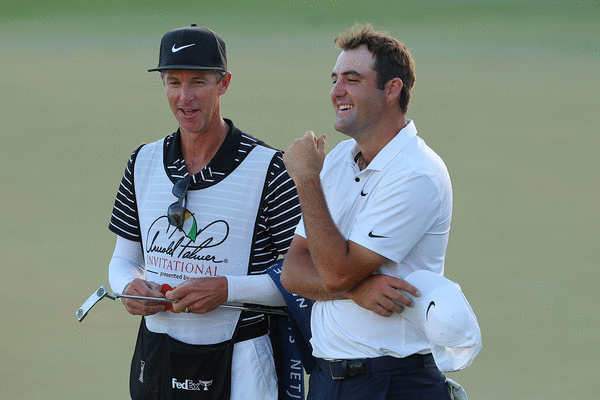 His payout for surviving? A cool $2.16M along with improved odds to win The Players next week and that tournament in GA in a month or so.
How much confidence do you think he's playing with now after winning 2 out of his last 3-events? We're guessing a lot. Deservedly so.
---
Final Leaderboard of Survivors
Pos
Player
R4
Thru
Total
1
S. Scheffler
E
F
-5
T2
V. Hovland
+2
F
-4
T2
B. Horschel
+3
F
-4
T2
T. Hatton
-3
F
-4
T5
G. Woodland
+1
F
-3
T5
C. Kirk
E
F
-3
T7
L. Herbert
-4
F
-2
T7
T. Gooch
+5
F
-2
T9
M. Fitzpatrick
+1
F
-1
T9
S. Burns
-1
F
-1
T11
K. Bradley
E
F
E
T11
C. Conners
+2
F
E
T13
C. Young
E
F
+1
T13
G. McDowell
+4
F
+1
T13
R. McIlroy
+4
F
+1
T13
R. Henley
+3
F
+1