Mon., May 9th, 2022 Edition​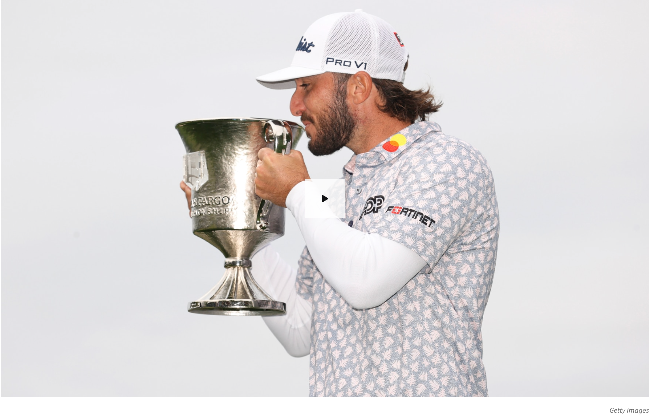 With Wells Fargo win, Max Homa proves that he is 'that guy'
– Brentley Romine / Golf

Per Brentley: "I care about nothing more than making that Presidents Cup team," Homa said. "So, I'm really hoping captain Davis Love III was watching today, or at least somebody messaged him about it, but that's all I've really cared about. … This goes a long way."
"As I started to establish myself on this tour when I won this event in 2019, I definitely knew I was capable of being a regular PGA Tour player," Homa said, "but all of a sudden last year I get in the top 50 in the world, and you start looking around and it's a new crop of people, and you start thinking to myself, 'Am I as good as these guys? And then I want to be top 10 in the world, play Presidents Cup, play Ryder Cups. Am I good enough to do that?"
Now firmly established on Tour, Homa feels like he has something the Scottie Schefflers and Collin Morikawas of the golf world do not. And he wears those competitive scars on his chest like badges of honor."

B&B POV – Max Homa is good. And barring some major dip in form, he'll likely make this year's Presidents Cup roster for the US squad. Deservedly so.
Homa has swag and game, and loves himself some Twitter too. OKG!
---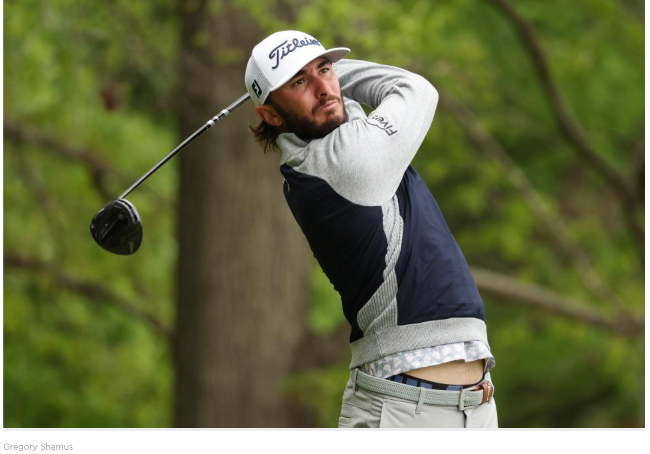 WITB: Max Homa, 2022 Wells Fargo Championship Winner
– E Michael Johnson / Golf Digest
Ball: Titleist Pro V1
Driver: Titleist TSi3 (Fujikura Ventus 6 Black), 10 degrees
3-wood: Titleist TSi2, 15 degrees
7-wood: Titleist TSi2, 21 degrees
Irons (4): Titleist T100*S; (5): Titleist T100; (6-9): Titleist 620 MB; (PW): Titleist Vokey SM9
Wedges: Titleist Vokey SM9 (52, 56, 60 degrees)
Putter: Scotty Cameron by Titleist Phantom X 5.5

B&B POV – Looks like Homa has spent some time tinkering with the Titleist tour guys on his bag set-up. A little of this, a few of those. Obviously he's made some smart choices with his gear.
And Titleist continues to rack up victories.
---
2022 Wells Fargo Championship prize money payouts for each PGA Tour player at TPC Potomac
– Adam Woodard / Golfweek
Per the Adam: "It pays to play well on the PGA Tour, folks. Just ask this week's winner, Max Homa.
The 31-year-old claimed his fourth PGA Tour win at the 2022 Wells Fargo Championship. The tournament was also his first win back in 2019 (but at a different course). This year's event was held at TPC Potomac at Avenel Farm in Potomac, Maryland, while the tournament's usual home, Quail Hollow Club in Charlotte prepares for the Presidents Cup in September.
Homa will take home $1.62 million for his efforts, with runners-up Matt Fitzpatrick, Cameron Young and Keegan Bradley earning $681,000. Check out how much money each PGA Tour player earned this week at the 2022 Wells Fargo Championship."

B&B POV – These guys dealt with rain and cold temps all week. And now can warm back up by burning their cash if they please. Big bags of $$$ for those who persevered through what really did look like miserable conditions.
---
Thorbjorn Olesen repeats eagle-birdie finish to win British Masters
– Associated Press / ESPN
Per AP: "Thorbjorn Olesen finished eagle-birdie for the second straight day to win the British Masters by one shot in a dramatic fashion Sunday, earning his first European tour title in nearly four years and igniting his career after a damaging court case.
Olesen had taken a three-stroke lead into the final round but struggled Sunday before his brilliant finish, including an eagle on the par-5 17th hole by holing from 28 feet, followed by 35 feet across the green on the last.
The Danish golfer's previous win was at the Italian Open in June 2018. He was suspended by the European tour the following year after being accused of sexually assaulting a woman and being intoxicated on a flight following a World Golf Championships event in Tennessee."

B&B POV – You'd win the game if you could spell Thornjorn's (Thorbjorn) name correctly on your first attempt.
Great player. Bad rep. TO is a player working hard to turn around his career and personal brand.
We'll give him this: finishing 3-under over your final two holes to win is HUGE. Doing it Sat and Sun is just plain money. Nice!
---
The tricky situation facing the DP World Tour as it braces for LIV Golf
– John Huggan / Golf Digest

Per John: "Inherently the same. But, in so many ways, distinct. Forever, those have been the only and obvious conclusions when comparing the PGA Tour and the Old World circuit formerly known as the European Tour, what is now the DP World Tour. Different in culture—certainly. Different financially—for sure. Different in the quality of the product—oh, yes.

All of which is why golf's two biggest and longest-established tours have had contrasting reactions to the (at least for many) unedifying emergence of the Saudi-backed LIV Golf Invitational Series. Where the PGA Tour was quick to publicly denounce Greg Norman and his controversial plans for the future of professional golf, the London-based DP World Tour has been, through necessity, more circumspect.

Still, for all that such a scenario is a real possibility, there also remains in some quarters an air of mistrust over the now three-year-old strategic alliance that exists between the PGA Tour and DP World Tour.
"I worry about the PGA Tour's long-term agenda," says one player. "They have no need to help us really. Or do they? This is just my opinion. There is going to be a change in the landscape, but what exactly is that going to be? The PGA Tour will inevitably cherry-pick the best events on the European Tour. Ultimately, the top-100 players on the world rankings will play on the biggest tour and be able to play in all the best events everywhere in the world. But most of those will be in America."

B&B POV – Sitting here today typing this, we feel the DP/Euro Tour will penalize/sanction its members as follows for participating in the LIV Tour events: a) no captain's pick or being named captain of the European side of the Ryder Cup; b) no special exemptions into any of the DP Tour's biggest events; and finally, a stern look and a finger shake.
Basically, the tour can't afford to cut ties with any premier, stay players.It already is fighting an uphill battle by losing star players to the US's PGA TOUR every season.
---
Tips from Denny McCarthy, arguably the TOUR's top putter
– GolfWRX / PGATOUR.COM

Per GolfWRX: "Since joining the PGA TOUR in 2018, Denny McCarthy has established himself as one of the best putters in the world, ranking first in Strokes Gained: Putting in both 2019 and 2020.
Below, we highlight five key takeaways from the putting discussion with McCarthy, one of the game's best putters."

1. Find your 'forever' putter
2. Through the gate
3. Getting aligned
4. Awaken your inner artist
5. Try to make it

Click the link to find out what each of these tips mean >

B&B POV – McCarthy is a world-class stroker of the ball on the tight grass. He's the kind of putter all of us wish we had in a scramble group, but can never field. 
Great tips in this article.
---
FEATURED LESSON
"Hit Better Drives through Rhythm with Eric"
Eric Lohman, PGA, demonstrates a great way you can practice smoother rhythm with your driver swing.
---
GOLF GEAR DEAL OF THE WEEK
WHEN YOU HAVE A MINUTE
Don't miss these random nuggets of gold we found on the interwebs.
You're welcome.
Enjoy this weekend's recap!
-B&B