Spieth is riding a heater, again. Now on to Southern Hills for the PGA this week.
K.H. Lee didn't back down in Mckinney, TX. Hell, he shot a final-round 63 to win the Byron Nelson this weekend, making it two wins in a row at TPC Craig Ranch.
We love this pic. Giddy up!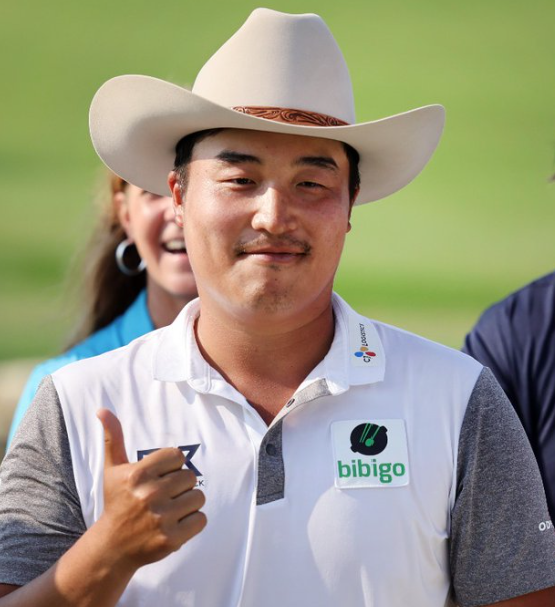 The names right behind Lee on the leaderboard.
Spieth
Matsuyama
Xander
Thomas
He beat the best-of-the-best while they too were playing great golf. Excellent tournament Mr. Lee.
Biggest Comeback of the Week: Schauffele made the cut on the number (-5) and finished in T-5 at -23, thanks in large part to his final round 61. Don't bet against Xander to finish outside of the Top 10 at the PGA this week.
Final Leaderboard
Pos
Player
R4
Thru
Total
1
K.H. Lee
-9
F
-26
2
J. Spieth
-5
F
-25
T3
S. Muñoz
-3
F
-24
T3
H. Matsuyama
-10
F
-24
T5
X. Schauffele
-11
F
-23
T5
J. Thomas
-5
F
-23
T5
R. Palmer
-6
F
-23
8
C. Schwartzel
-5
F
-22
T9
J. Hahn
-3
F
-21
T9
P. Malnati
-6
F
-21
T9
D. Riley
-5
F
-21
T12
C. Bezuidenhout
-5
F
-20
T12
M. Kuchar
-8
F
-20
T12
A. Norén
-8
F
-20
T15
B. Garnett
-8
F
-19
T15
S. Scheffler
-3
F
-19
T17
S. Power
-4
F
-18
T17
Mito Pereira
-5
F
-18
T17
N. Lashley
-8
F
-18
T17
T. Hoge
-5
F
-18
T17
J. Kokrak
-3
F
-18
T17
F. Molinari
-8
F
-18
T17
B. Hossler
-2
F
-18
T17
J.H. Kim
-5
F
-18
Greenbacks
Win: K.H. Lee, -26, $1,638,000
2: Jordan Spieth, -25, $991,900
T-3: Hideki Matsuyama, 264/-24, $536,900
T-3: Sebastián Muñoz, 264/-24, $536,900
T-5: Ryan Palmer, 265/-23, $336,700
T-5: Xander Schauffele, 265/-23, $336,700
T-5: Justin Thomas, 265/-23, $336,700
8: Charl Schwartzel, 266/-22, $284,375
T9: James Hahn, 267/-21, $247,975
T9: Peter Malnati, 267/-21, $247,975
T9: Davis Riley, 267/-21, $247,975
T-12: Christiaan Bezuidenhout, 268/-20, $193,375
T-12: Matt Kuchar, 268/-20, $193,375
T-12: Alex Noren, 268/-20, $193,375
T-15: Brice Garnett, 269/-19, $161,525
T-15: Scottie Scheffler, 269/-19, $161,525
T-17: Tom Hoge, 270/-18, $116,707.50
T-17: Beau Hossler, 270/-18, $116,707.50
T-17: Joohyung Kim, 270/-18, $116,707.50
T-17: Jason Kokrak, 270/-18, $116,707.50
T-17: Nate Lashley, 270/-18, $116,707.50
T-17: Francesco Molinari, 270/-18, $116,707.50
T-17: Mito Pereira, 270/-18, $116,707.50
T-17: Seamus Power, 270/-18, $116,707.50