We're sharing our DK lineups, and hoping we see a boatload of $$$ in our account Sunday night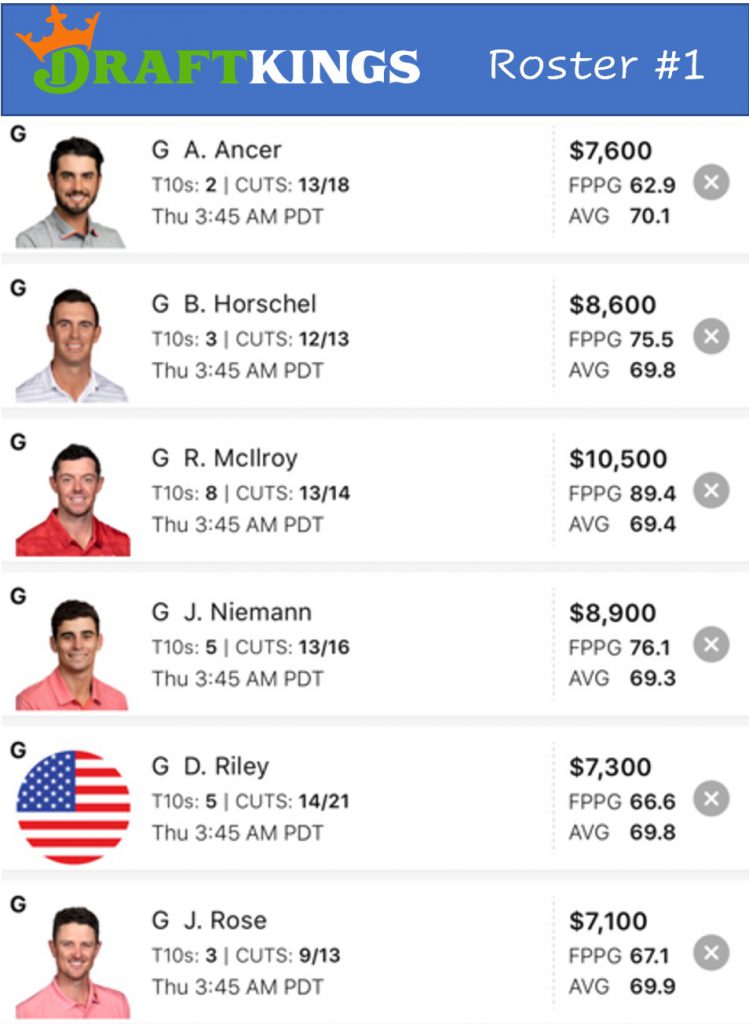 We are DEFINITELY not professional sports/daily fantasy gamblers. Not even close.
But, we do enjoy betting (or, as I like to call it, investing) a couple of Franklins during major season — and that time is now. The 2022 U.S. Open at The Country Club kicks off early tomorrow.
Here's who I have the utmost confidence in to perform well for me over the next four days of grueling USGA-set-up golf. None of these guys made their way into the field via local/final qualifying. I'm not that crazy…
ROSTER #1
Abe Ancer – Hits it straight. Never shows emotion. Smooth putting stroke. Could be the shortest guy on tour, so he's already hitting blind shots. Drinks tequila for breakfast. Viva! (UPDATE – woke up Thursday to find out Abe withdrew — shit balls! Obviously didn't have time to replace him in my roster…)
Billy H. – Our newest, favorite player on tour. Speaks his mind. Balls of steel. But, may lose his marbles by EOD Friday if he's 3-jacking. He played so good at the Memorial; and that set-up was similar to this week's sans The CC's rock-hard, postage-sized greens, arse tight fairways, graduated rough and knee-high hay.
Rory – Let's goooooo! Mr. PGA Tour. Hates Norman, LIV and any other pro making more than him not named Tiger. Mr. Nipples.
Joaquin "Rubber Boy" Niemann – Mito's best friend has the right kind of game to win a U.S. Open. Or so we think. He's really good and has won this year already. Seems to have his "mentals" in order.
Super Rook (Davis Riley, not Cam Young) – He's a lock to make the cut and DK won't let you draft a full roster of A-level superstars, so he's my B-level guy.
Rosey – A past US Open winner, past A-level star, didn't jump into the LIV-abyss last week, but did shoot 60 on Sunday and almost won the Canadian Open. Make the cut Rosey. Just like Merion, you can do this!
ROSTER #2 (because I'm too big a wuss to pick just one roster and let it roll):
Sam "Burner" Burns – What's not to like? He's going to win majors at some point, why not this week? He's got confidence to 'burn,' has won a few times already on Tour this season and his wife is really in good shape.
The Canadian (Corey Conners) – He last smiled when he missed a cut, which was in '21. Smiling is for losers. Corey, you stoic, sunglasses wearing, poutine lovin', son of lumberjack (probably a stretch) — let's make the cut together, ok?
UW Funny Boy (Joel Dahmen) – I like the guy and he was cheap. And I always root for UW compatriots. Don't suck Joel. Not this week. Go Dawgs!
Denny "Pet my bird?" McCarthy – Hits it straight and puts like a prince. Like Abe, short as hell (height and length off of the tee), so we are hoping he's got a good caddie. Cheap.
Xander – The Rock. Wakes up Thursday knowing he's cashing a Top-20 check, but I need him to finish Top-3. At some point, he'll start winning more on tour. The big ones. Why do I think that beyond the fact that he's amazingly good and ooooozes cool? Because there can only be one Tony Finau. Tony has collected Top 3's in big tourneys his whole career but has only won two middling PGA tourneys. So X needs to start winning more or we'll anoint him Finau's Robin-esque bitc.
JT – For a guy who's 5'7′, 135 pounds dripping wet, has the biceps of an 8th grader, and the receding hairline of this 48 yr-old author, he's dirty good, cocky, and our true Captain America. For this roster to win $$$ on DK, JT either needs to win or miss the cut — because the whole world is picking him. Come on JT. It's "The" Country Club. You're my Captain America. A match made in red, white & blue golf heaven.
WHO YOU GOT?