We're sharing our DK lineup, and hoping we see a boatload of $$$ in our account Sunday night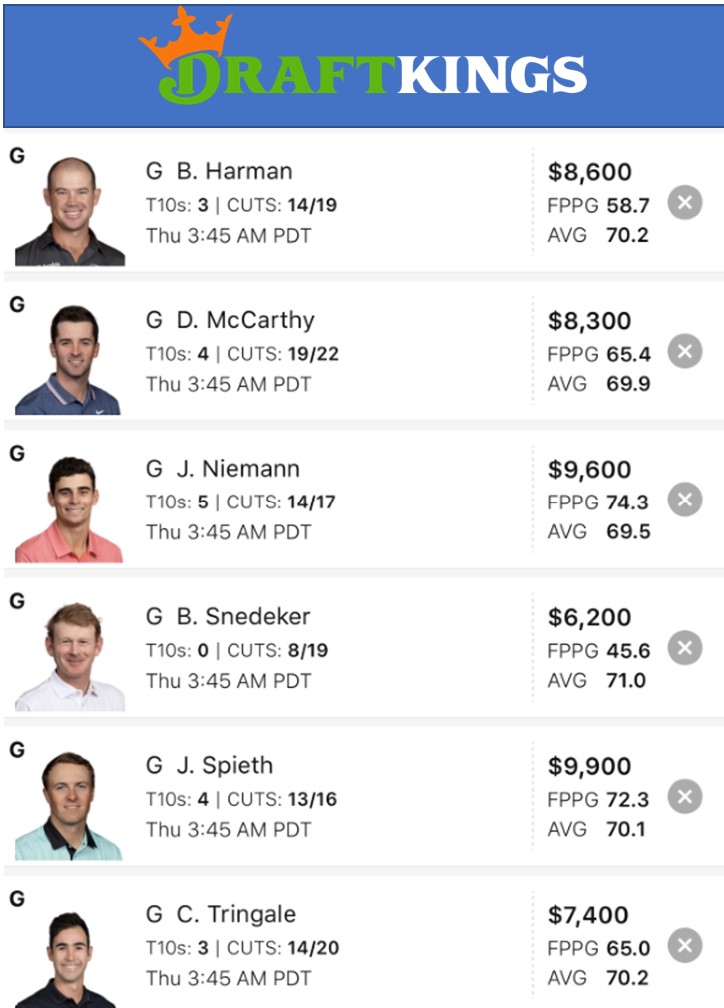 We are DEFINITELY not professional sports/daily fantasy gamblers. Not even close.
But, we do enjoy betting (or, as I like to call it, investing). The 2022 Travelers Championship at TPC River Highlands kicks off early tomorrow.
Here's who I have the utmost confidence in to perform well for me over the next four days of birdie-barages and f-bombs a flying.
Let's goooo team!
ROSTER
Brian Harman – Love this guy. Short in stature and off the tee. Bald. Babies have more hair. Left-handed. Couldn't beat Webster in an arm-wrestling contest, but is feisty as hell and has won on Tour. Coming off a T-43 at the U.S. Open. Sleeper to win.
Denny "Pet my bird?" McCarthy – Hits it straight and puts like a prince. He had a great U.S. Open and even made a slight run at the trophy on Sunday until reality set in. Not as cheap as he was last week (now $8,300, up from $6,700), but he's playing the best golf of his career.
Joaquin "Rubber Boy" Niemann – Coming off of a T-47 last week, he's got more gas in the tank. Streaky. And TPC Highlands is where good pros go to shoot great scores. We like this pick a lot. Has the game to pick up his 2nd win of the season.
Brandt Snedaker – Cheap. But we have "feels" that this could be a good week for him. The course isn't long and putts are going to be falling all over the course. Sneds can flat-out-putt and his wand has always been streaky. When he gets hot, he can still post good numbers. He's our "please just make the cut, sir" pick of the week.
Jordan Spieth – Uh, has history at the Travelers. The good kind. Coming off of a below-expectations U.S. Open week (T-37) that likely left him pissed, I think the warm cookie & milk memory of victory past could fuel Spieth to pull off his 2nd win of the season. He's been playing well the last few months, and this course is a perfect set-up for his game ("fore left, fore right" and the touch of an angel around the greens). Guaranteed Top-5 pick.
Cameron Tringale – The anomaly. Makes good $$$ on Tour — every single year — but has never hoisted a trophy other than the one he shared with J. Day in 2014 at the Franklin Templeton Shootout. This is a good course for his "average at everything"-type of game. Had a good U.S. Open (T-14), so he's trending.
WHO YOU GOT?
---
So good…