We're sharing our DK lineup, and hoping we see a boatload of $$$ in our account Sunday night.
Last week's roster turned out to be a big pile of missing cuts-poo. Spieth and Sneds definitely let us down.
With the John Deere Classic's weak field, there is very little rhyme or reason as to why we picked the guys we did. Heck, we've never even heard of nearly 1/3 of the guys playing.
Any research? Uh, no. Common sense selections? Sure. We're not total dumbarses.
Sadly, the best male professional golfers in the world this week are either taking a break from the Tour or will be teeing it up at Pumpkin Ridge in the Saudi LIV Portland-is-Pissed Open.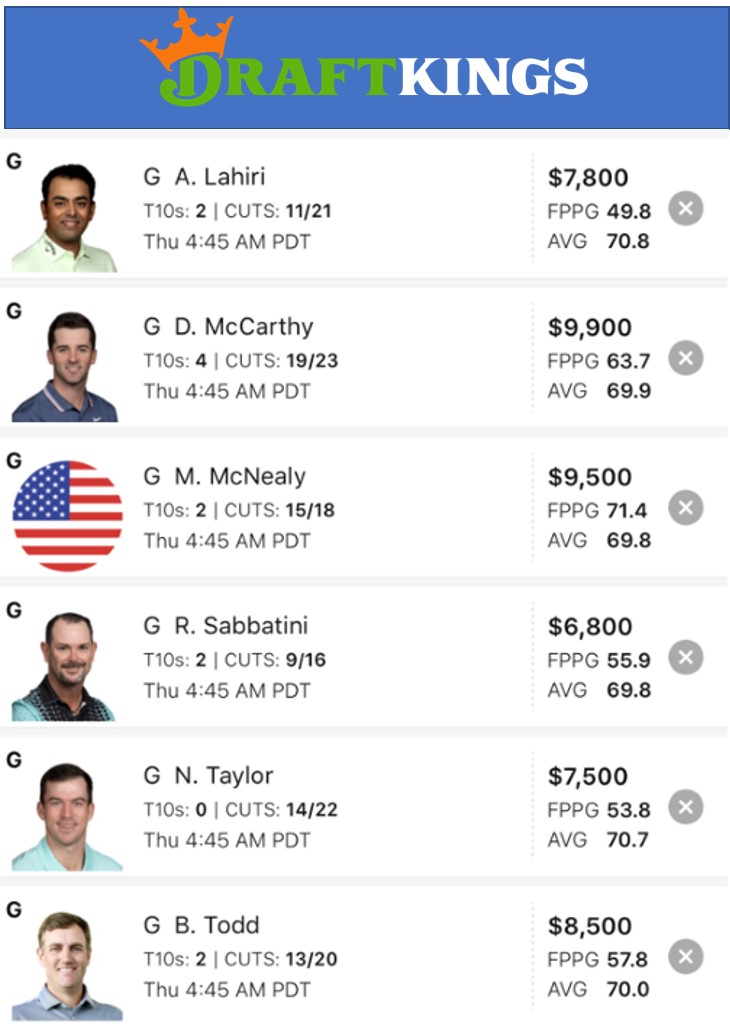 DISCLAIMER: Please keep in mind: We are DEFINITELY not professional sports/daily fantasy gamblers. Not even close. So if you go with our roster, good luck to us all!
The 2022 John Deere Classic at TPC Deere Run kicks off early tomorrow.
Here's who I have the utmost confidence in to perform well over the next four days of birdie-barages and f-bombs a flying.
Let's goooo team!
ROSTER
Anirban "A-Train" Lahiri – Damn near won The Players earlier this year. Woot! Ranks 124th on Tour in driving distance, 82nd in driving accuracy. Hopefully, the course is super short and wide open. No rough would be nice. 88th in OWGR. Not bad A-Train. Keep it running.
Denny "Pet my bird?" McCarthy – Hits it straight and putts like a prince. I've picked him 3-weeks in a row now. Come on Denny! Daddy wants to buy some new shoes, with spikes!
Maverick McNealy – Loves Top Gun. Doesn't need to golf. Dad's a billionaire and Mav graduated from Stanford. Honestly, coming out of Stanford he should've already invented something techie and be running a publicly-traded company. Slacker. Instead he's a "golfer." All joking aside, we love Mav and this pick. Sleeper this week to win his 1st PGA TOUR event
Rory "The Other Rory" Sabbatini – The biggest D-bag I ever played college golf against. Born in South Africa, but turned up last year at the Olympics and won silver representing Slovakia. Slovakia is not near the African continent, but hey, what the hell do we know. We like Rory to finish Top-25 at the JD — because he plays with yellow balls. That's the only reason. His balls are YELLOW!
Nick Taylor, Team Canada – Udub grad. All-around good dude. Hasn't had his best year on Tour. We still picked him over C.T. Pan, who's having a slightly better year out there. Note: We always have to pick at least one Dawg. Nick's ranked 244th in the world. Needs to play better down the stretch to make the Fed Ex playoffs.
Brendon Todd – Flashy. Strong. Debonaire. All words used to describe Bryson and Brooks, not Brendon. The guy ranks 5th on Tour in driving accuracy at nearly 70%. Damn. But 201st in distance. Lexi would outdrive him, easily. Streaky putter. We are looking for a Top-10 from Brendon this week. Come on B-Todd, you handsome man. We have faith in you!
WHO YOU GOT?