Mr. Runner-up showed out at the 3M. Piercy's back-nine meltdown was brutal to watch.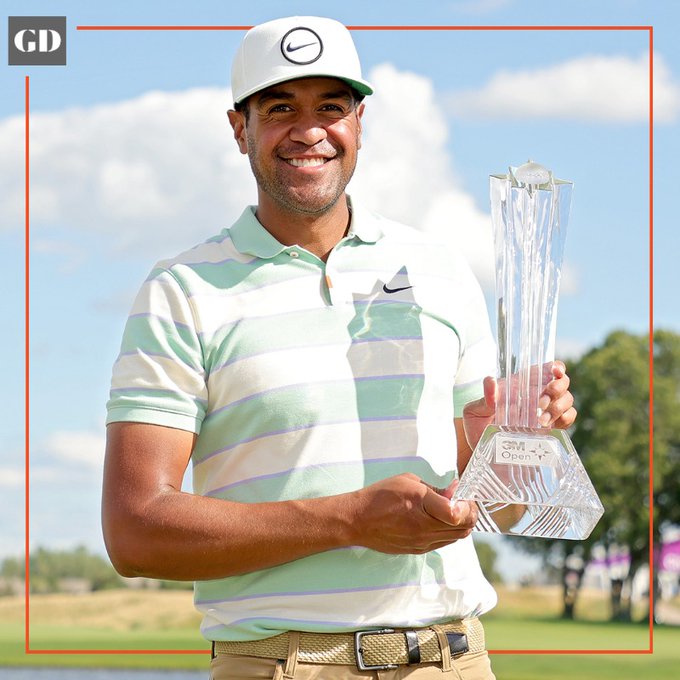 Midway through Sunday's final round of the 3M Open Scott Piercy was holding steady, up multiple strokes on the weaker-than-average PGA TOUR field. His sweet swing was relatively grooved in (enough to win) and he was in command of the tourney. All he needed to do was play smart golf and not make any big numbers. Then this:
Wow, was that hard to watch in real-time. Making matters worse for Piercy was that in the group ahead Finau was beginning to heat up. HIs usually wonky putter was rollllin', leading to three consecutive birdies on 14, 15, and 16.
With Piercy making a triple at the same time that Finau was riding a 45 min. mini-heater, Piercy went from way up to way down, and there was no catching Finau even though he dunked it into the lake right on 18 off of the tee. "Hey caddy, pull the driver next time!"
Finau is a fan favorite. Big smile. Short swing. Long ball hitter. He's a mainstay on Presidents Cup and Ryder Cup teams. He's the kind of PGA TOUR star that the PGA TOUR needs to keep away from LIV GOLF. With Brooks, DJ and Bryson having already jumped to the Saudis, guys like Finau and Max Homa are in good shape to pick up some PIP bonus, along with kickers from their sponsors. Hopefully that will be enough to keep them from bolting anytime soon.
Congrats to Tony. Thanks for the compelling show of skill yesterday afternoon with the tourney on the line.
Long live the PGA TOUR!
Final Results
Pos
Player
R4
Thru
Total
1
T. Finau
-4
F
-17
T2
S.J. Im
-3
F
-14
T2
E. Grillo
E
F
-14
T4
S. Piercy
+5
F
-13
T4
T. Hoge
-1
F
-13
T4
J. Hahn
-6
F
-13
T7
D. Willett
-3
F
-10
T7
G. Sigg
+1
F
-10
T7
C. Tarren
-2
F
-10
10
C. Hadley
+1
F
-9
T11
P. Malnati
-1
F
-8
T11
K. Kraft
-4
F
-8
T11
J. T. Poston
+1
F
-8
T11
R. Streb
-1
F
-8
T11
A. Putnam
+2
F
-8
T16
D. Ghim
+6
F
-7
T16
C. Champ
-4
F
-7
T16
C. Davis
-2
F
-7
T16
A. Long
+1
F
-7
T16
H. Lebioda
-3
F
-7
T16
L. Hodges
+2
F
-7
T16
S. Brown
-1
F
-7
T16
M. Gligic
-2
F
-7